Interventional Cardiology Procedures in Sugar Land, TX
We Provide Interventional Cardiology Procedures
Interventional cardiology is an advanced field that offers a range of procedures to diagnose and treat heart conditions. As a leader in heart care, Reddy Cardiac Wellness & Diabetes Reversal Center provides top-quality interventional cardiology services in Sugar Land, TX. Our experienced team of physicians uses the latest technology to perform minimally invasive procedures to improve heart health and quality of life. Whether you are dealing with a chronic condition or require emergency intervention, we are here to help. Contact us today to learn more about our interventional cardiology services and how we can help you achieve optimal heart health.
What Is Interventional Cardiology?
Interventional cardiology is a branch of cardiology that utilizes specialized catheter-based methods to diagnose and treat heart conditions, including vascular disease, coronary artery disease, structural heart disease, and congenital heart defects. The subspecialty involves using diagnostic tools and imaging techniques to measure various cardiovascular functions such as high blood pressure and blood flow in major arteries throughout the body and within different heart chambers. Unlike traditional open-heart surgeries, interventional cardiologists do not perform surgical procedures.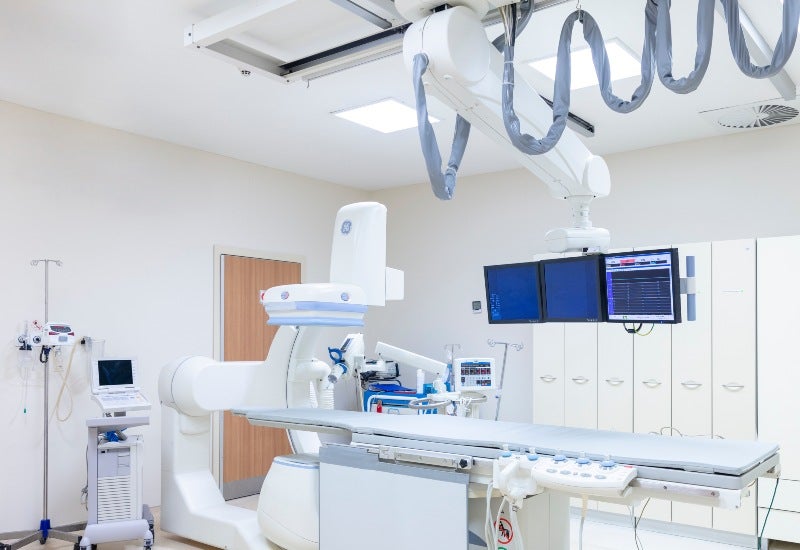 What Is an Interventional Cardiac Procedure?
An interventional cardiologist utilizes a catheter to perform cardiac procedures instead of making incisions on the skin and conducting surgery. Heart valve replacement or repair is one example of an interventional cardiac procedure. These procedures include cardiac catheterization, angiogram (peripheral or coronary), angioplasty, stent placement, coronary atherectomy (plaque removal), fractional flow reserve (FFR) measurement, intravascular ultrasound (IVUS), optical coherence tomography (OCT), heart valve replacement and repair, left atrial appendage closure, atrial septal defect closure, alcohol septal ablation, patent foramen ovale closure, renal denervation, and thrombolysis.
What Conditions Does Interventional Cardiology Treat?
An interventional cardiologist treats a variety of heart and blood vessel conditions, including but not limited to:
Atherosclerosis
Coronary artery disease
Heart attack
Carotid artery disease
Peripheral artery disease
Hypertrophic cardiomyopathy
Aortic valve stenosis
Coronary artery fistula (abnormal connection between blood vessels or heart chambers)
Thromboembolic disease (blood clots)
Aneurysm
Chronic venous (vein) disease
Atrial septal defect
Ventricular septal defect
Diagnostic Testing Procedures
Our diagnostic testing procedures include:
Intravascular Ultrasound
Cardiac Catheterization
Fractional Flow Reserve (FFR)
Myocardial Biopsy
Optimal Coherence Tomography (OCT)
Coronary Flow Reserve (CFR)
Advanced Treatments
Percutaneous procedures that are performed through the skin and considered advanced include:
Primary Percutaneous Coronary Intervention (PCI) for myocardial infarction
Complex coronary angioplasty and stenting
Coronary physiology testing
Intravascular Imaging (IVUS and OCT)
Atherectomy of coronary and peripheral arteries
Visceral (renal, mesenteric) artery angioplasty and stenting
A hybrid specialist can perform both interventional procedures and traditional surgery in one room, called a hybrid suite. Hybrid suites allow for multiple specialists to work together at the same time when patients require more than one cardiac intervention procedure.
Top Benefits of Interventional Cardiology
Interventional cardiology offers several benefits for patients with heart conditions. One of the main advantages is that it can often prevent the need for invasive surgeries, which can be more intensive and require longer resting periods. Instead, interventional cardiologists implement specialized catheter-based techniques to diagnose and treat vascular disease, coronary artery disease, structural heart disease, and congenital heart defects. These noninvasive techniques can be more comfortable for patients and result in decreased complications like bleeding and hematomas. Interventional cardiologists also use advanced procedures like transradial heart catheterizations and interventions, which can further increase patient comfort and reduce recovery times.
Contact Reddy Cardiac Wellness & Diabetes Reversal Center
At Reddy Cardiac Wellness & Diabetes Reversal Center, we understand the importance of personalized and comprehensive care for patients with cardiovascular diseases. Our interventional cardiology services in Sugar Land, TX, are aimed at providing cutting-edge, minimally invasive cardiology treatments to manage a range of heart conditions. Whether you are seeking treatment for coronary artery disease, heart valve disease, or peripheral vascular disease, our team of experienced physicians is dedicated to helping you achieve optimal heart health. Don't hesitate to contact us today to learn more about our services or to schedule an appointment.
Why Choose Us?
Walk-In Patients Welcome
Free Parking & Easy Access
Accepting Most Insurance Plans
Same Day Appointments Available
State of the Art Facility & Equipment
Extremely Friendly & Experienced Staff