Reddy Bread: Diabetic-Friendly Option in Sugar Land, TX
Call Reddy Cardiac Wellness & Diabetes Reversal Center Now!
At Reddy Cardiac Wellness & Diabetes Reversal Center, we offer Sugar Land, TX residents the support they need to maintain a heart-healthy diet. Diabetes is one of the most prevalent health concerns among Americans today, affecting nearly 27 million people throughout the country. Contrary to popular belief, diabetes is not only preventable but it can also be reversed. With, lifestyle modifications and nutritional improvement are essential to turning back the clock on your diabetes. Our experienced physicians deliver expert advice and targeted care to help you prevent, reverse, or manage diabetes so you can live a healthier, fuller, longer life. Dr. Reddy is a prominent cardiologist who encourages patients to look at food as medicine and the grocery store as a pharmacy. Learn more about how Dr. Reddy helps guide his diabetes patients towards more conscious eating.
Replace Your Store-Bought Bread with Reddy Bread!
Whether you have recently been diagnosed with diabetes or have had the condition for many years, you've likely heard that bread is "off-limits." Though we understand the sentiment – as diabetes patients shouldn't eat more than 25 to 50 grams of carbs a day – there are low-carb bread options worth considering. Cue Reddy Bread. This bread option has been formulated by Dr. Reddy himself to give those with diabetes a naturally healthy alternative that will not raise blood sugar in most people. Heart Smart products are primarily made of soy and flax, making them a great addition to your everyday diabetes diet plan. They include:
Reddy's Heart Smart Flat Bread – The flatbread is perfect for wraps filled with your favorite meats and veggies or top it and bake it for a nutritious pizza. The possibilities are endless. Dr. Reddy's Flat Bread comes in a five-count pack and contains five flatbreads per pack.
Reddy's Heart Smart Flax Bread – This bread is primarily made of flax, making it a healthy addition to your everyday diet – especially for those with diabetes. This is a five-count pack and contains five flax loaves of bread per pack.
Dr. Reddy's Heart Smart Flat Bread & Flax Bread
As Houston's leading cardiologist, Dr. Reddy understands how effective diet modifications can be for improving overall health, especially when talking about conditions like diabetes. That's why he has devoted his life to making it easier for people with diabetes to combat their disease through more conscious lifestyle choices. The fact is, food is medicine. Everything we eat plays a significant role in either promoting health or furthering the promotion of disease. Though this may sound scary, it's quite easy to swap out processed foods for whole ones. One of the ways in which Dr. Reddy does this is by offering Reddy Bread. He developed this bread with his patients in mind, ensuring it meets all the marks for those with diabetes:
Does not increase blood sugar (in most patients)
Gluten-free
Helps with weight loss
Low carb
No added sugar
Omega fats from flax
Make the Switch Today!
When it comes to diabetes, diet modification is essential. Reddy Cardiac Wellness & Diabetes Reversal Center provides his patients with the information, tools, products, and support they need to regain control over their health. Though some food swaps may be more taxing than others, it's vital that those with diabetes make a conscious effort to rid their diet of foods that do nothing but hinder their body and promote their disease. You don't have to give up sandwiches, toast, wraps, and more when you make the switch to Dr. Reddy's Heart Smart bread options. Contact our Sugar Land, TX clinic today to learn more about how you can snag this low-carb bread for yourself and eat to promote optimal health.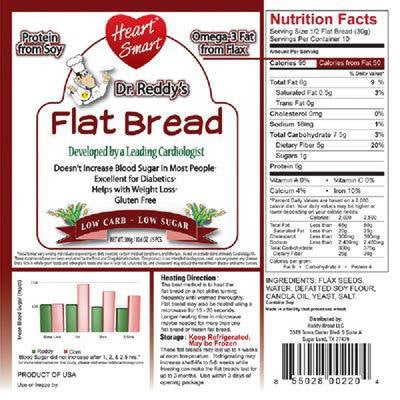 DR. REDDY HEART SMART FLAT BREAD 5CT | $4.50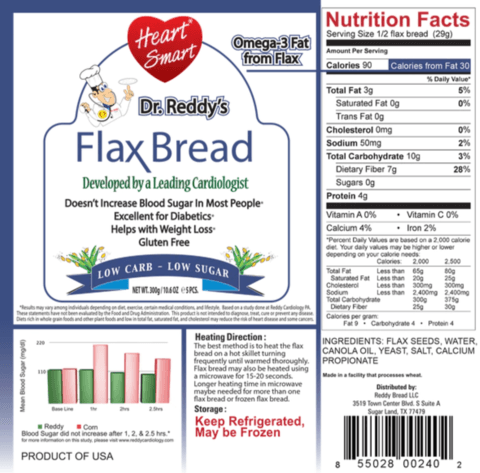 DR. REDDY'S FLAX BREAD 5CT | $5.50