Treating & Preventing High Blood Pressure in Sugar Land, TX
Recognizing High Blood Pressure (Hypertension) Symptoms
Although high blood pressure is common in both men and women of all ages in the United States, not everyone experiences high blood pressure symptoms. Hence, high blood pressure (hypertension) is often referred to as the "silent killer" among professionals in the medical community. Here at Reddy Cardiac Wellness, our cardiologist in Sugar Land, TX has over 15 years of experience, undergoing extensive training to diagnose and treat the symptoms of high blood pressure quickly and accurately.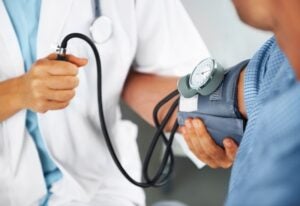 We can test you for hypertension and many other conditions, as well as help you take preventative measures when you schedule a consultation. If you suspect you've experienced high blood pressure, heart attack, or stroke symptoms in the Sugar Land, TX area, please don't hesitate to make an appointment with our skilled cardiologist right away. Time's ticking away!
What Is High Blood Pressure, and What Causes It?
High blood pressure is a common condition that results from blood putting too much pressure on the inner walls of blood vessels. Using a sphygmomanometer, or blood pressure cuff, our cardiologist at Reddy Cardiac Wellness measures the pressure in your blood vessels when your heart is beating (systolic pressure) and the pressure when your heart is resting between beats (diastolic pressure). Normal blood pressure is less than 120/80 (systolic/diastolic).
Perhaps you've had your blood pressure taken during a visit to your primary physician. It's suggested you have a blood pressure reading taken at least once every two years once you turn 18 or more frequently if you've already been diagnosed with high blood pressure. While the exact causes of high blood pressure remain unknown, several factors may increase your risk of developing hypertension, including the following:
Genetics
Age (over 40)
Thyroid disorders
Smoking
Obesity
Lack of physical activity
Too much salt in your diet
Stress
Alcohol abuse
Be Aware of These Early Signs & High Blood Pressure Symptoms
High blood pressure symptoms among our Sugar Land, TX patients are often easy to miss, especially since many of them mimic heart attack and stroke symptoms. In some cases, an individual may have high blood pressure for years without seeing any symptoms. The only way to know for sure if you suffer from this condition is to get a regular checkup from our excellent cardiologist at Reddy Cardiac Wellness. If you're experiencing any of the following symptoms, you need to come in right away:
Fatigue
Difficulty breathing
Frequent headaches or migraines
Nausea
Dizziness
Chest pains
Irregular heartbeat
Vision problems
Importance of Diagnosing & Treating High Blood Pressure Early
As one of the leading contributors to both heart disease and strokes, high blood pressure makes your heart work harder than it should to circulate blood through your body. High blood pressure leads to an increased risk for all of the following:
Heart attacks
Heart failure
Strokes
Kidney damage
Vision loss
Helping Sugar Land, TX Patients Prevent High Blood Pressure
The good news about high blood pressure is it can be controlled if it's detected early enough. If our cardiologist at Reddy Cardiac Wellness diagnoses you with hypertension, we'll likely put together a high blood pressure treatment plan that includes an exercise program, weight loss, and possibly prescription medications (beta-blockers). We also recommend and encourage changing your eating habits, opting for a high blood pressure diet that is low in salt. There are several things you can do to decrease your risk of developing high blood pressure, including all of the following:
Maintain a healthy weight
Exercise regularly
Drink alcohol only in moderation
Quit smoking
By living a healthier lifestyle, you're not only decreasing your risk for hypertension, but you're also actively participating in heart attack prevention, heart failure prevention, and stroke prevention.
If You Have High Blood Pressure Symptoms, Seek Help Immediately
If you're experiencing any of the aforementioned high blood pressure symptoms in Sugar Land, TX, please contact Reddy Cardiac Wellness to schedule an appointment as soon as possible. Whether you have difficulty breathing, swelling in your legs, or chest pains, you could be experiencing high blood pressure, a heart attack, or a stroke. You should seek medical treatment immediately. Same-day appointments are often available at Reddy Cardiac Wellness, and we also welcome walk-in patients.
*Disclaimer: These statements have not been evaluated by the Food and Drug Administration. This product is not intended to diagnose, treat, or prevent any disease. Results may vary and are not guaranteed. Please Note: The material on this site is provided for informational purposes only and is not medical advice. Always consult your physician.