Electrocardiogram (EKG) Testing in Sugar Land, TX
Your heart contains a natural electrical system comprised of specialized cells that produce electrical signals that cause the heart to beat. When this electrical system is damaged or malfunctions, it can cause abnormal heart rhythms, called arrhythmias, which can, in turn, affect your health. An electrocardiogram is a diagnostic test used to visualize and analyze the electrical activity in the heart, allowing your cardiologist to diagnose a wide range of heart conditions to pursue the best course of treatment. At Reddy Cardiac Wellness, we offer comprehensive EKG testing in Sugar Land as part of our suite of available cardiac diagnostic testing services to give us a clear picture of your heart health.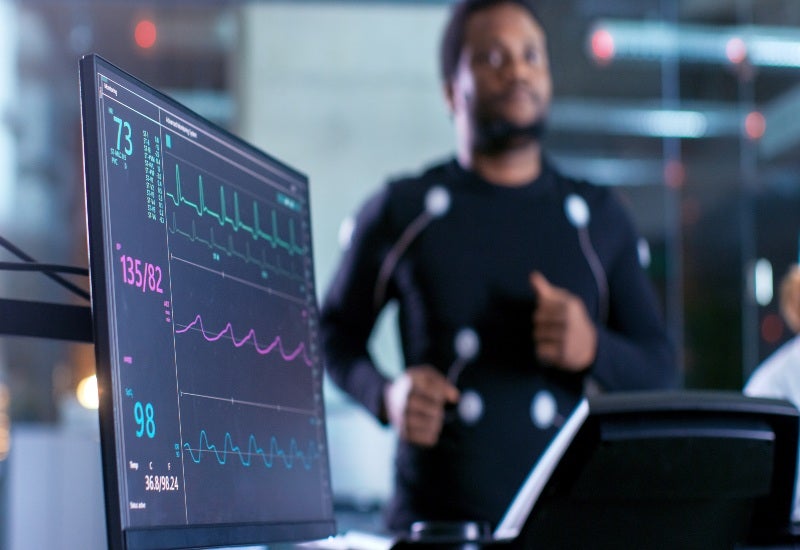 What Happens During an EKG
EKG testing is completely painless and noninvasive. During an EKG, several soft patches containing passive electrodes are attached to your skin. These electrodes detect the electrical signals generated in the heart, displaying them on a screen for your cardiologist to evaluate. A typical EKG test only takes about 10 minutes and can be completed in your physician's office. You'll be able to recline comfortably during this test, although you should remain quiet and still. The signals may be recorded digitally or on paper for later reference.
In many cases, a single EKG test is sufficient to diagnose: arrhythmia. However, if the electrical problems in your heart are sporadic or brought on by physical activity, subsequent EKG testing, Holter monitoring, or a stress test may be recommended.
Although EKGs are most often used to diagnose arrhythmias, they can also help your cardiologist confirm structural abnormalities in the heart, determine whether blood flow to the heart has been affected, or find evidence for the occurrence of a heart attack in the past.
Follow-up EKGs may be used as part of an ongoing treatment plan to determine whether your current course of treatment is working as expected.
How Your Cardiologist Evaluates an EKG
EKG testing is a valuable diagnostic tool available to you and your cardiologist. An EKG test will give your cardiologist information on:
the rate of your heartbeats and whether they have a normal or an abnormal progression through the chambers of the heart.
the condition of the muscle tissue in the heart, such as whether it has become thickened, inflamed, or damaged.
the flow of blood into and out of the heart during each beat.
the location and orientation of your heart in your chest.
When you visit Reddy Cardiac Wellness, we may use EKG testing to evaluate your heart health or diagnose the cause of symptoms such as fatigue, breathlessness, and chest pain. You can schedule an appointment for a heart health evaluation at our office by calling (281) 617-2203