Learn How Diabetes Treatment in Sugar Land, TX, Can Improve Your Life
Flexible Diabetes Treatment Options for All Clients
Getting treatment for Type 1 or Type 2 diabetes can feel overwhelming, especially when you're first diagnosed. You'll need to deal with lifestyle changes to maintain normal blood sugar levels, monitoring diabetes symptoms for changes, and learning about how to test blood sugar levels after eating. Every day, there will be tasks you'll have to do to maintain your care at home.
This doesn't mean that you can't do it if you have a busy schedule or a lot of other things on your plate. Knowing the signs of diabetes is an important first step, as well as getting a diabetes test from your doctor and assessing the severity of your condition before coming up with a diabetes treatment plan.
At Reddy Cardiac Wellness & Diabetes Treatment Center in Sugarland, Texas, you can find preventative care options as well as learn about diabetes symptoms, how to get tested, and what you can do if you have diabetes. We'll make sure you have a treatment plan that works for you so that you can stick to it and stay healthy.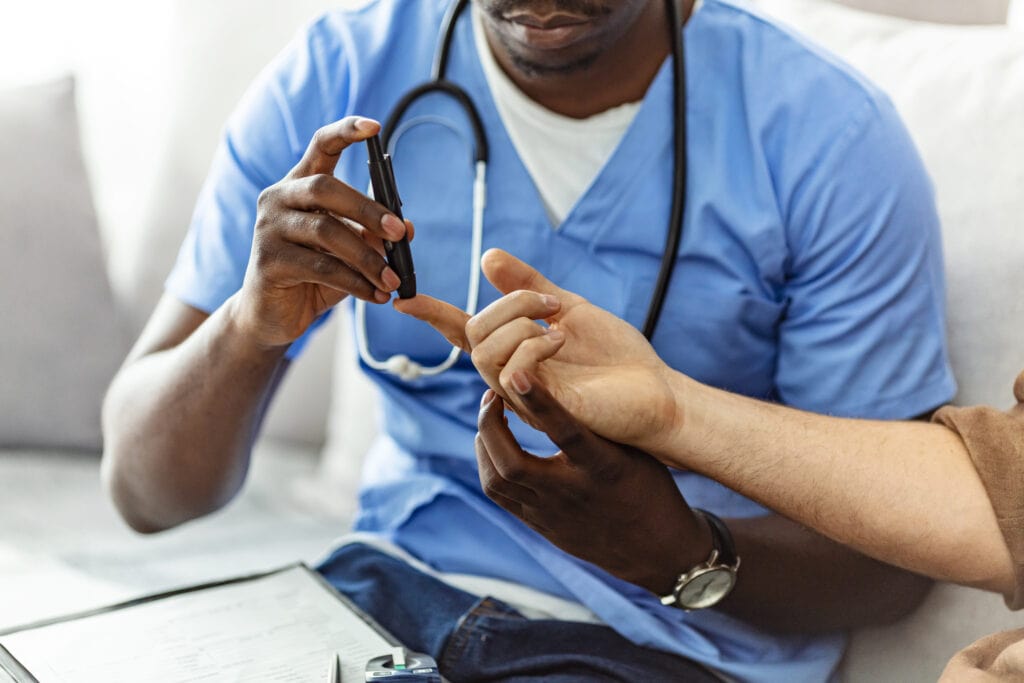 What Is Diabetes?
Diabetes, essentially, is the inability of your body to properly produce insulin. This results in the buildup of sugar in the blood, as insulin is the hormone needed to process it. There are two types of diabetes:
Type 1: If you're born with type 1 diabetes, there's nothing that can be done to stop it from manifesting. This type doesn't obstruct insulin production but instead destroys it completely. Your body will not be able to make insulin-producing cells that last and this stops it from processing glucose (the sugar your body needs for fuel) from your bloodstream to the rest of the cells in your body.
Type 2: This type is also genetic but can usually be avoided with the right diet and lifestyle. If it manifests, this type can also be reversed. Type 2 diabetes can be the result of either dysfunctional insulin or not enough insulin. Both instances are treatable.
Reddy Cardiology and Diabetes Reversal Center have the experts and tools to help you figure out what's going on with your body and get the treatment you need.
Learn Which Diabetes Symptoms to Be Concerned With
There are a lot of symptoms that you may be experiencing without realizing that they might be early symptoms of diabetes. Every person is different. You might have all these symptoms or only a couple of them. Some symptoms associated with diabetes that you can look for are:
Thirst
Weight loss
Fatigue
Slow-healing wounds
Frequent urination
There are many more diabetes symptoms to look for and, if you feel that diabetes might be something you're experiencing, you'll have to schedule a fasting blood glucose test with your doctor. This test measures the glucose in your blood after you haven't eaten anything for about eight hours. The purpose of fasting is so that any food you've eaten doesn't interfere with the test.
The fasting blood glucose test will tell the doctor how well your body processes glucose. If your test shows normal blood sugar levels but you're still experiencing symptoms, you could be in the early stages of the disease. Treatment at the Diabetes Reversal Center can prevent the progression of your symptoms if you have type 2 diabetes.
See How Diabetes Treatment Can Work for You
At Reddy Cardiology and Diabetes Reversal Center in Sugarland, Texas, there are many treatment options available. First, our specialist will assess your case and your fasting blood glucose test. After learning more about your case, you'll be introduced to the Reddy Diabetic Diet Plan.
Diabetes is a serious condition with no cure but there are many ways to manage it so that your overall health is improved, and your quality of life is the best it can be. Aside from changes to your diet, there are other things you can do to ensure your diabetes is either reversed or that it doesn't take over your life.
Work with your doctors to create an exercise plan that works for you.
Check your blood pressure at intervals prescribed by your doctor.
Keep up with the functional nutrition plan developed by your specialists.
Monitor signs and diabetes symptoms to note any changes to your condition.
In some cases, like with type 1 Diabetes or other issues, medications may be necessary to keep blood sugar balanced. For many cases, insulin injections or an insulin pump may be necessary, but there are many types of devices and options that help make this easier.
Begin Your Healing Journey in Sugarland, TX Today
Call Reddy Cardiac Wellness & Diabetes Reversal Center today to get started with managing your diabetes and get your health back on track! We are here to customize a treatment plan that works for your needs and lifestyle.